The end to the COVID-19 crisis seems far; however, when the dust settles, there would be lot of things that will be analysed by businesses and CIOs. IT Leaders across industries will have to re-align their digital transformation journey, workforce planning and more. Technology and communications will, no doubt, be seen through a new prism.
Yotta brought together eight CIOs across industries in their Webinar Series – Post COVID-19 Outlook – The CIO Pulse, to deliberate on their IT strategy and how they will navigate the aftermath of this crisis.
"Post lockdown; there will be a lot of expectations from every business on what should change. The priority for a lot of organisations would be to stabilise the tactical things that they have done, that is, changing the interim to a permanent situation. Organisations will also need to think about scaling up or scaling down of current infrastructure and applications", said Arun Gupta – Ex-CIO and
veteran industry leader.
Analysing the post-COVID-19 tech scenario, analysts have begun increasing their odds of a sizeable market decline. As per IDC, the coronavirus pandemic will cause a reduction in IT spends by 4 per cent globally. The future of IT service providers from CIOs and IT Leaders perspective is that of consultant and a partner, someone who will help them save cost in the short-term and help
scale up in the long run.
CIOs must not get bullied by CFOs conversations of low revenue, low spends or no revenue, no spends. IT is as critical to an organisation as manufacturing to a manufacturing company", Arun added further.
"We as CIOs will have to take a step ahead. We need to help the business come out of this situation safely and establish normalcy. There will be a lot of hype around the technology, which will lead to confusion. Hence one must select the right technology and not get carried away with the hype and select a wrong technology", said Milind Khamkar, Group CIO – Super Max.
Responding to questions on whether there will be a boost to technology adoption or, as some analysts predict, will it undergo a sizeable market decline, experts aired their own opinions about it. Manish Israni, EVP & CIO – Yotta Infrastructure was of the view that businesses have realised the importance of technology.
"As a service provider, once the worst is over, we will help our customers by preventing them from heading towards the wrong direction in terms of technology adoption. We are and will always be an advisor to our customers rather than a service provider", Manish added.
The CIO Pulse
We used this platform to gauge the sentiments and outlook from these IT leaders and attendees on what would be their topmost IT priority. Most of them agreed that they need to re-align with the new business strategies, some also opined that they would need to step-up digital transformation post this crisis. In terms of IT spends, investments in IT will go up in Cloud and Colocation services with Disaster recovery and BCP coming in as a second priority and Cybersecurity a close third.
This crisis has changed everyone's priorities. To mitigate the costs of increasing IT spends, IT leaders opined that they are looking forward to BYOD/VDI for their employees and Pay-per-use setup of contracts with service providers. Some panellists highlighted the importance of the cloud as a technology option and will see increasing traction among enterprises.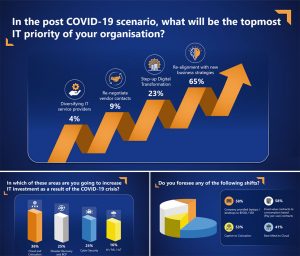 "In the post-COVID-19 world, we will see technology playing an enhanced role. It will shape and reshape businesses. There will be a new drive for digitalisation", said Dr Peerzade, Group CIO – Reliance Entertainment.
Talking about the change that the current crisis will bring about in customer expectations and needs, Amit Phadke, Tech Leader – Western Union, opined that they would mostly stay the same. He also spoke about the technologies that will gain prominence in the days to come, pointing out a few of them such as API Platforms, Artificial Intelligence, and Hybrid Cloud.
For seasonal businesses and companies like Blue Star, these are peak earning months and see a surge in revenues from March to June. With revenues impacted severely, Suresh Iyer – CIO Blue Star said, "I would look at digital transformation and renegotiation of vendor contracts as my priority. Also, how do we see a move towards software-defined everything."
However, digital transformation may not be that easy for specific sectors, such as those catering to the rural India such as Mahindra & Mahindra Financial Services Ltd. To battle these challenges, they will need to focus on the mobility part of current technologies.
"For us, things have been difficult as we work in rural places. Digital transformation will not be that easy. However, from a technology perspective, our focus right now is on mobility and how to reach out to the customers. We will try to meet customer expectations and business commitments so that the business continues", said Dr Suresh A Shan, CIO – Mahindra & Mahindra Financial Services Ltd.
Arun Gupta concluded, "For IT, it is going to be a huge challenge, wherever they had large IT Operations department, they will have to look at how do they change this going forward. Companies who use both in-house and outsourced IT facility have some advantage. With regards to the technology focus for the future, I cannot put a finger and pick something when I am not sure what tomorrow will look like."
By and large, most panellists agreed the era for technology would only gain momentum as enterprises try to find means and end to battle a crisis like this. Technology can certainly be an enabler in ensuring business continuity.
Worried about your future IT strategy, talk to our expert for a free IT consultation. With pay-per-use pricing and scalable infrastructure, Yotta can make your IT journey smooth and meaningful.